In an exciting update for fans of classic gaming, popular titles like Harvest Moon for SNES and Kirby Tilt 'n' Tumble are now part of the Nintendo Switch Online collection, alongside two other notable Nintendo classics. The revered gaming giant announced this via a tweet, confirming that a total of four games have been added to its online service.
Unearthing Treasures: Harvest Moon and Kirby Tilt 'n' Tumble
Harvest Moon, the game that pioneered the distinctive blend of farming and social simulation, has found a new home on Nintendo Switch Online. The game's engaging premise invites players to embrace their inner farmer and construct a life rooted in hard work and perseverance.
Kirby Tilt 'n' Tumble, on the other hand, introduces an element of tilt-controlled fun to the platform, potentially paving the way for similar titles such as WarioWare: Twisted to join the service. As per the game's description, this innovative spin on the classic Kirby gameplay introduces a new layer of entertainment and challenge.
More Classics Join the Fold: Mystery Tower and Blaster Master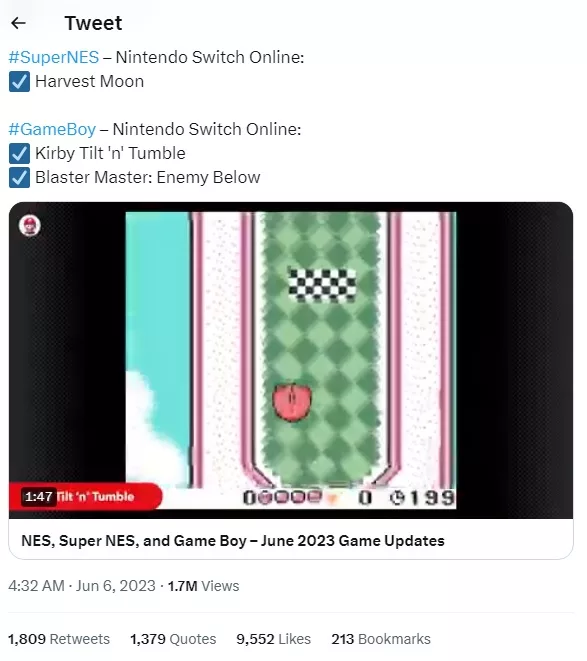 Mystery Tower, originally launched in Japan as Tower of Babel, calls upon players to tap into their problem-solving skills and assume the role of puzzle-solving archaeologists.
The game's description highlights the challenge: "Use wit and skill to reach the top of the tower! Clear stages by moving and rearranging mysterious stones to reach the exit and proceed to the next floor."
Also making its entry is Blaster Master: Enemy Below, where players can choose to save the world as Jason or his trusty vehicle, SOPHIA. The game's synopsis reads, "Using the strong weapons and high jumping power of SOPHIA, Jason must head to subterranean regions and eliminate everything in his path."
This fresh wave of classics comes hot on the heels of Nintendo Switch Online's recent additions of three Mario games: Super Mario Advance, Super Mario World: Super Mario Advance 2, and Yoshi's Island: Super Mario Advance 3. As the library continues to grow, players can look forward to more opportunities to revisit their beloved games from the past.