Miles Morales is Spider-Man, but he is not Peter Parker. It is a subtle difference, a key concept on which Insomniac Games builds the entire narrative structure of Marvel's Spider-Man: Miles Morales.
Already having told the origins of Miles in the episode for PlayStation 4, the first few minutes of this pseudo-follow-up quickly summarize the character of the new protagonist, its passions, and the context in which he lives and the prejudices that he will face when he wears the spider costume.
Recently moved to the Harlem neighborhood, miles is ready to help his neighbors, make new acquaintances in his community, and inherited a strong sense of civic duty from his mother. Besides being more outgoing, miles is also more stylish than Peter; he loves to listen to hip-hop music, he dresses branded and loves the street art that colors the streets of "El Barrio".
However, the thrill and sense of bewilderment of living in a new city area last only a few seconds, for – just as in the opening of the first Marvel's Spider-Man – business calls (literally). It's time to don the superhero costume. For a review of Marvel's Spider-Man: Miles Morales, so we return to swing between the skyscrapers of a New York that, on PlayStation 5 this time, never looked so good.
There Is a New Spider in Town
But Miles isn't Peter. And yet Spider-Man: Miles Morales makes us relive the protagonist's maturation that was missing in the first episode. In fact, on the PS4, we met a Peter Parker already experienced, casual, familiar with his powers and familiar with the responsibility of being Spider-Man.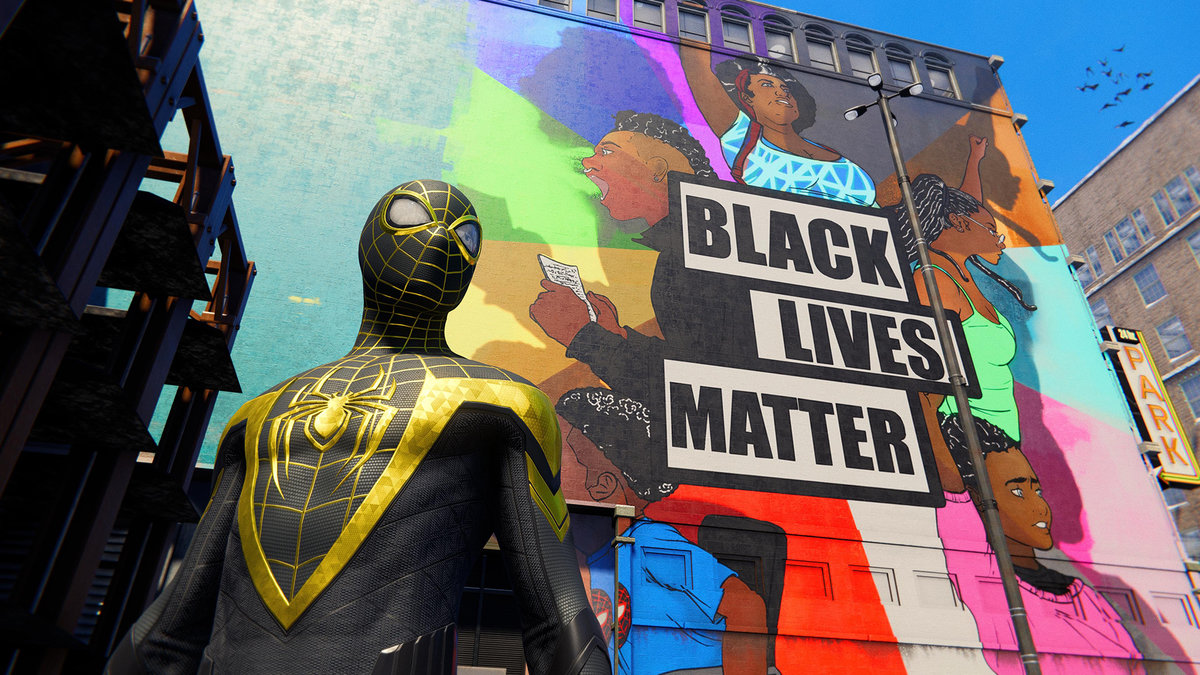 On the other hand, Miles is a rookie Spider-Man, an impulse hero, who is just now discovering his abilities and is still unclear what the burden of being the guardian of New York is. Particularly when the city's favorite hero decides to take a vacation.
"The Kid," he's called by the people who populate the streets of Manhattan, not just because he looks younger than the original but also because he tends to cause more damage than he solves.
The animators at Insomniac have done an excellent job of conveying Miles' inexperience: his swinging through the city's buildings is ungainly, reckless, constantly seeming to lose his balance while still maintaining the sense of fluidity, speed, and momentum that made Marvel's Spider-Man's New York one of the most fun open worlds to traverse in a video game.
In the initial stages, Miles strives to be a copycat of Peter. As we play, we feel the enormous sense of déjà vu: from the tutorial – a copy-paste from the previous episode – the combat system that, on land as in the air, it is based on the same and successful foundations of the original. Miles's costume at the beginning of the adventure bears the colors of the first Spider-Man, creating the false impression of being in front of a new DLC rather than a new episode.
It is only when the Venom power comes into play that things start to change: the main character discovers he can master bioelectric discharges, using them in combat or to move around, and both for he and for the player begins a journey that will lead him to become a Spider-Man with his own identity.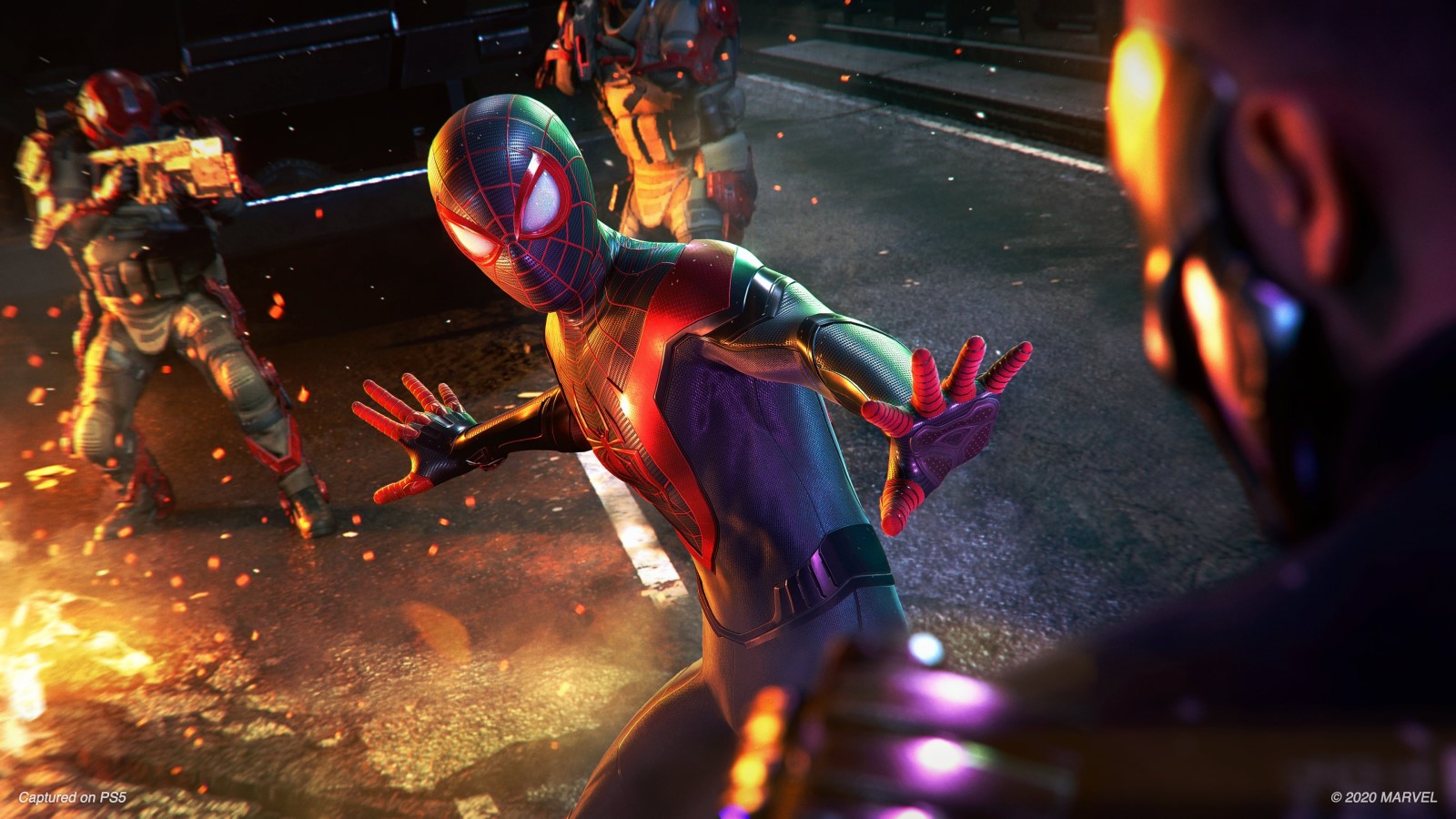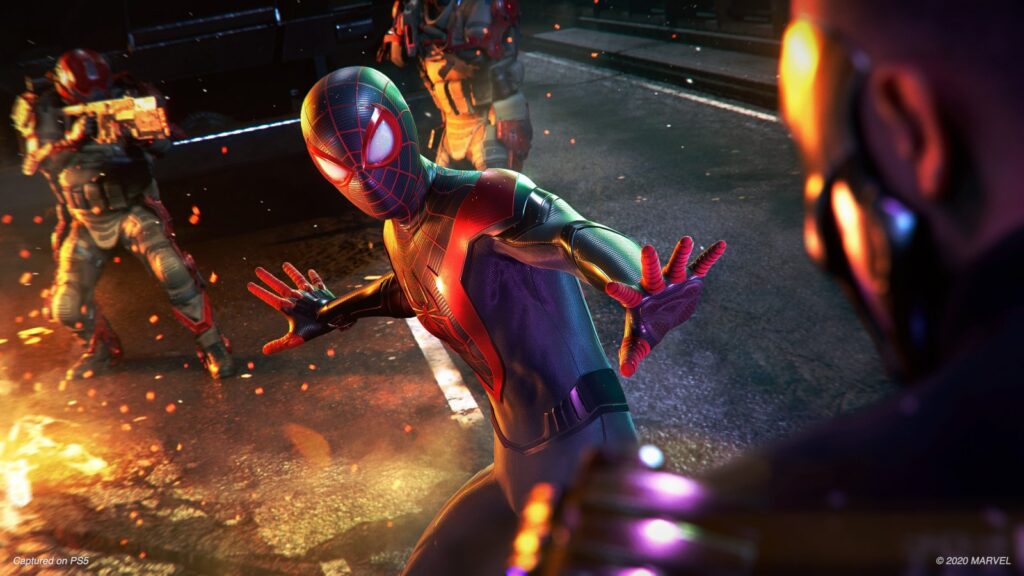 Venom's power doesn't just increase the power of Miles' blows, it introduces new attacks, techniques and skills that can combine, extend chains of blows, let you move in a flash from one point to another, but most of all allow you to keep multiple enemies at bay at the same time, where the approach of the old Spidey was more oriented to one-on-one. As a result, the battle system is more complete and more disruptive and challenging.
The other skill Miles has that sets him apart from Peter is his ability to cloak himself, turning practically invisible for a handful of seconds and taking out opponents in a stealthy manner or running away if he's in trouble. Concealment makes the stealth approach more "intimate", letting you get closer to enemies and take greater risks. Still, at the same time, it introduces a sense of urgency since your camouflage time is reduced when you attack.
As you power up different techniques and scale the skill tree, you unlock more devastating area shots, cloaking lasts longer. Venom power charges increase, but to prevent the experience from becoming too simple, Insomniac has introduced new enemies and weapons designed specifically to neutralize Miles' powers.
As time goes by, the protagonist's animations become more convinced, sure and explosive; New Yorkers begin to comment on his actions, as reported by the usual Daily Bugle by J. Jonah Jameson and the underground podcast Danikast.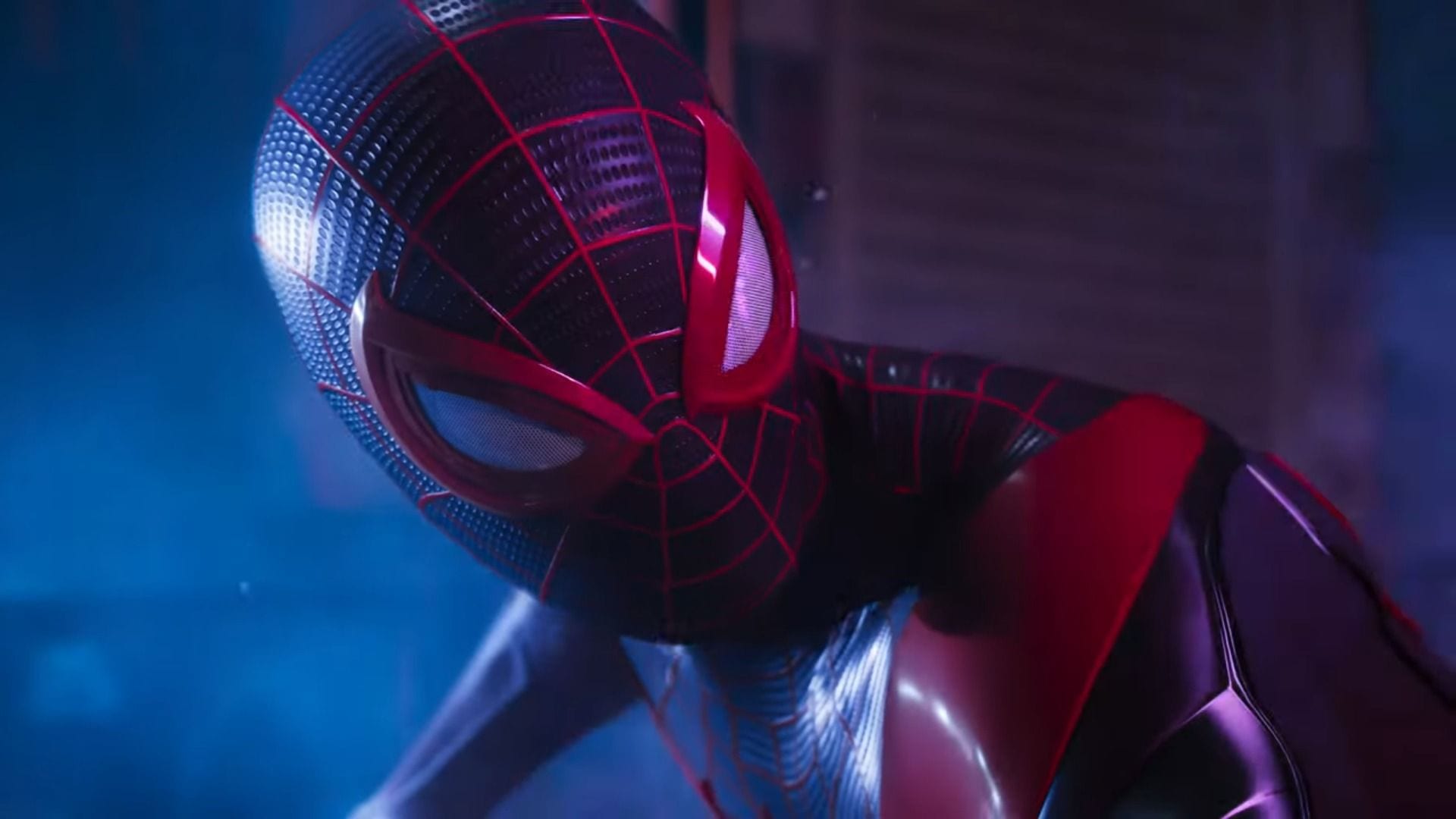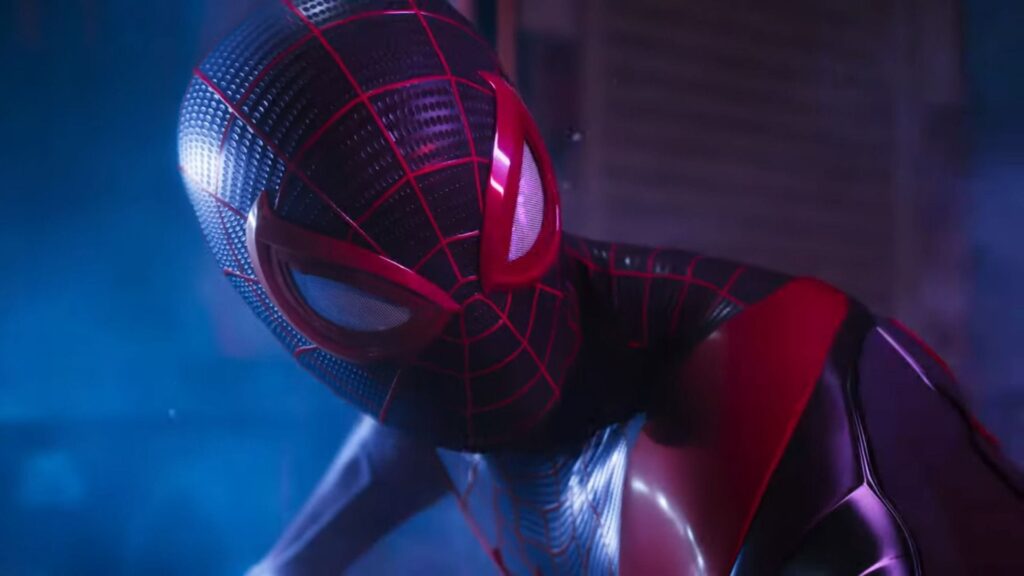 This realization on the part of the protagonist, however, runs out in the first half of the game because once they overcome the prejudices of people and past the syndrome of the spider-imposter, Miles finds himself facing a story definitely more familiar (and familiar), with some successful characters and a couple of sequences quite exciting, but generally does not have the breadth and the impetuous force of the first Spider-Man.
This is partly due to a problem common to all superhero games: you need to know a minimum of the universe of departure, his characters and his villains, and those who should be sensational twists lose their strength. To Insomniac must be recognized, though, as an attempt to rethink and re-propose the figure of Tinkerer (the Repairer), without a doubt the best defined and most interesting opponent of this episode.
Sadly, even to the detriment of others. Besides being few and far between, the main bosses of Marvel's Spider-Man: Miles Morales, rarely give rise to memorable and exciting fights, putting Miles' skills to the test every now and then but never pushing them to the extreme as done – for instance – by the Vulture and Electro in the first Spider-Man.
Costumes of the Other World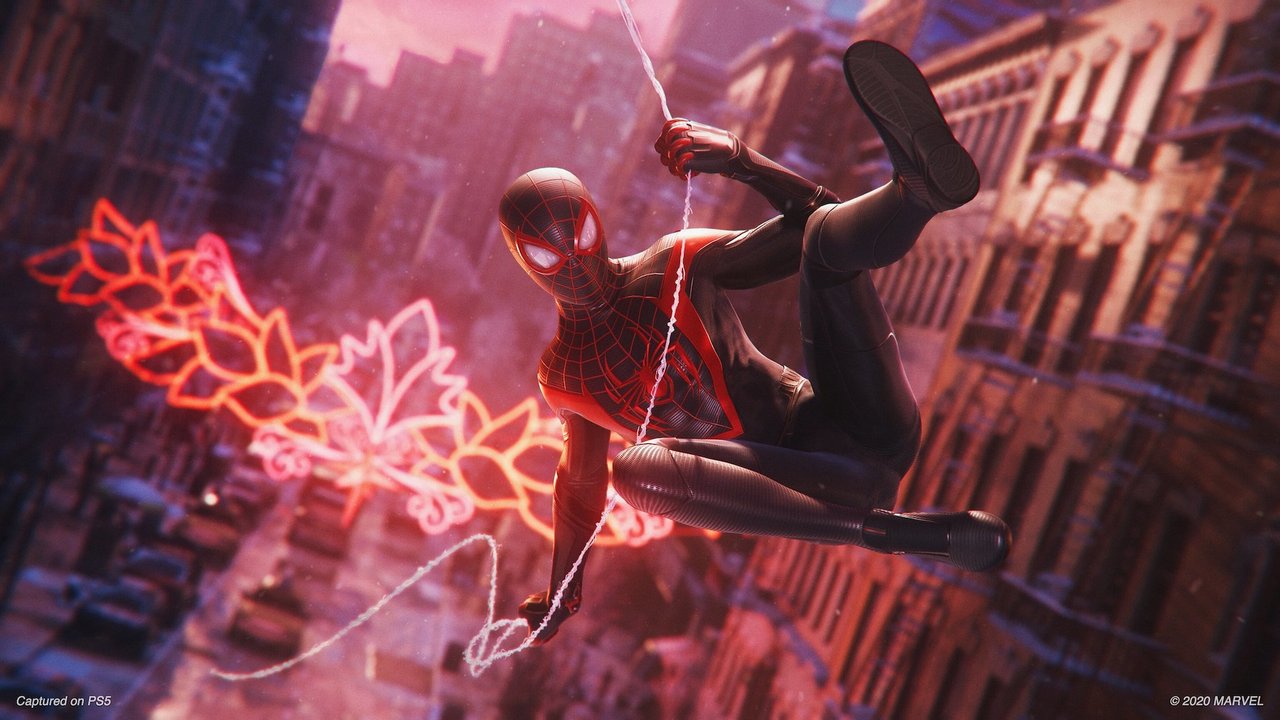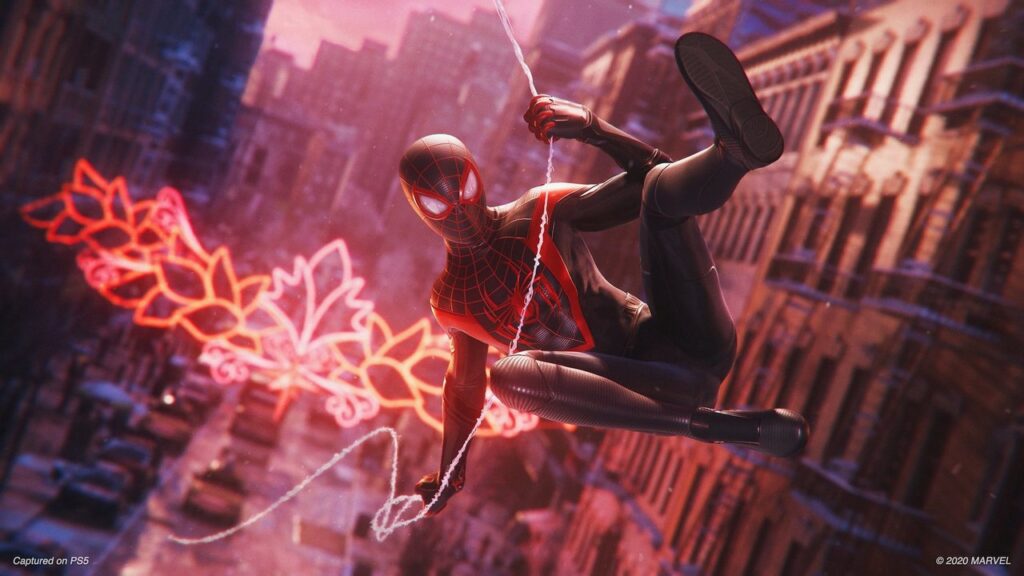 Miles will be wearing his iconic black and red suit very soon to stand out from the original Spider-Man. But with great power comes a great wardrobe, and so throughout the adventure in Marvel's Spider-Man: Miles Morales, it is possible to unlock a fair number of extra costumes (about twenty), each one characterized by modifications and customizations that can give an extra gear in combat or introduce small aesthetic changes.
Among the most successful is undoubtedly the costume Spiderverse, drawn directly from the animated feature Spider-Man: Into the Spider-verse, replicating the peculiar animation technique "two" seen in the film. The slowed-down effect of Miles' animations is striking and effective when doing stunts around Manhattan. Still, it makes hand-to-hand combat much more complicated to read.
Luckily, modifications and upgrades to one costume can be turned off and even applied to other outfits. Components and Tokens that you get through side activities allow you to unlock and upgrade Miles' gadgets, from the web shooter to a holographic drone that assists him in battle, and even a gravity shot that draws enemies to a specific spot.
Also Read:
Feeling Spider-Man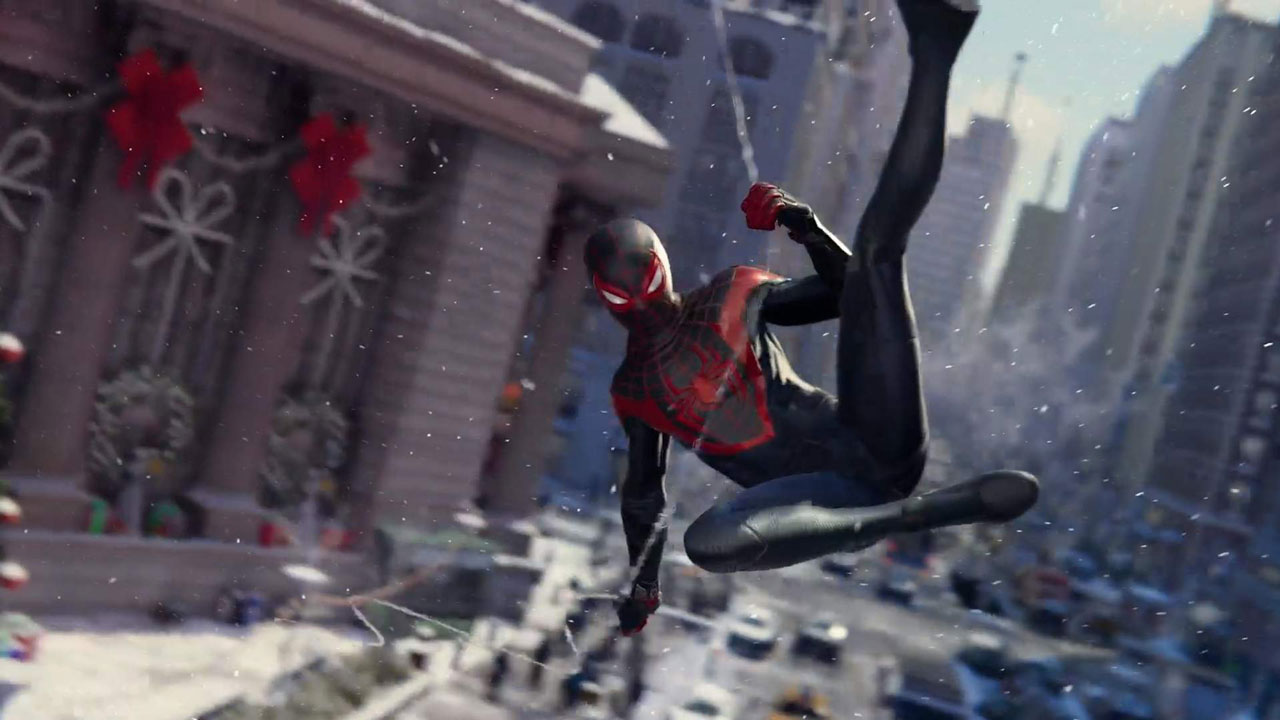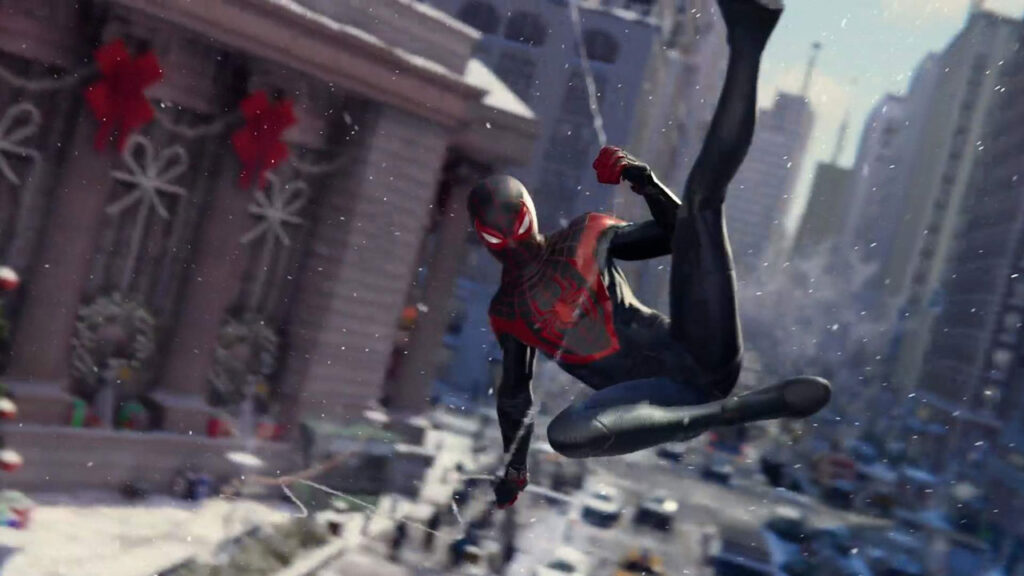 Although the survival of New York City is always at stake, Marvel's Spider-Man: Miles Morales' story and subplots give the impression that Miles is a parenthesis within a larger narrative. It is not necessarily a negative aspect since the Spider-Man of Harlem is the protagonist of an adventure certainly less epic, but no less personal. Through ordinary and intimate moments, it makes us appreciate more the nuances of some characters.
But it is when you swing between the skyscrapers of the big American city, between dips, jumps and pirouettes, that almost you forget any imperfection in the work of Insomniac Games, why – as well as and more than in Marvel's Spider-Man – the sensation that you feel in crossing the map is unequivocally the most liberating and galvanizing that you can happen in an open-world game.
Blending an explosive sense of speed, perfect control feel, fluid animations and cinematic sound design, the original Spider-Man flawlessly conveyed the idea of being Spider-Man, transforming New York City into its own playground. It was a fantasy come true. Now, Marvel's Spider-Man: Miles Morales doesn't dare to touch that perfect formula but merely enriches it with a couple of abilities related to the power of Venom.
Again, getting from one corner of Manhattan to the other is an exhilarating experience, and taking a detour in Central Park, apprehending a crime in Midtown or reaching out to pick up a collectable in Hell's Kitchen is never tedious or repetitive, even though Miles Morales also suffers from the same poverty and flatness that characterized the missions and side activities of the previous episode.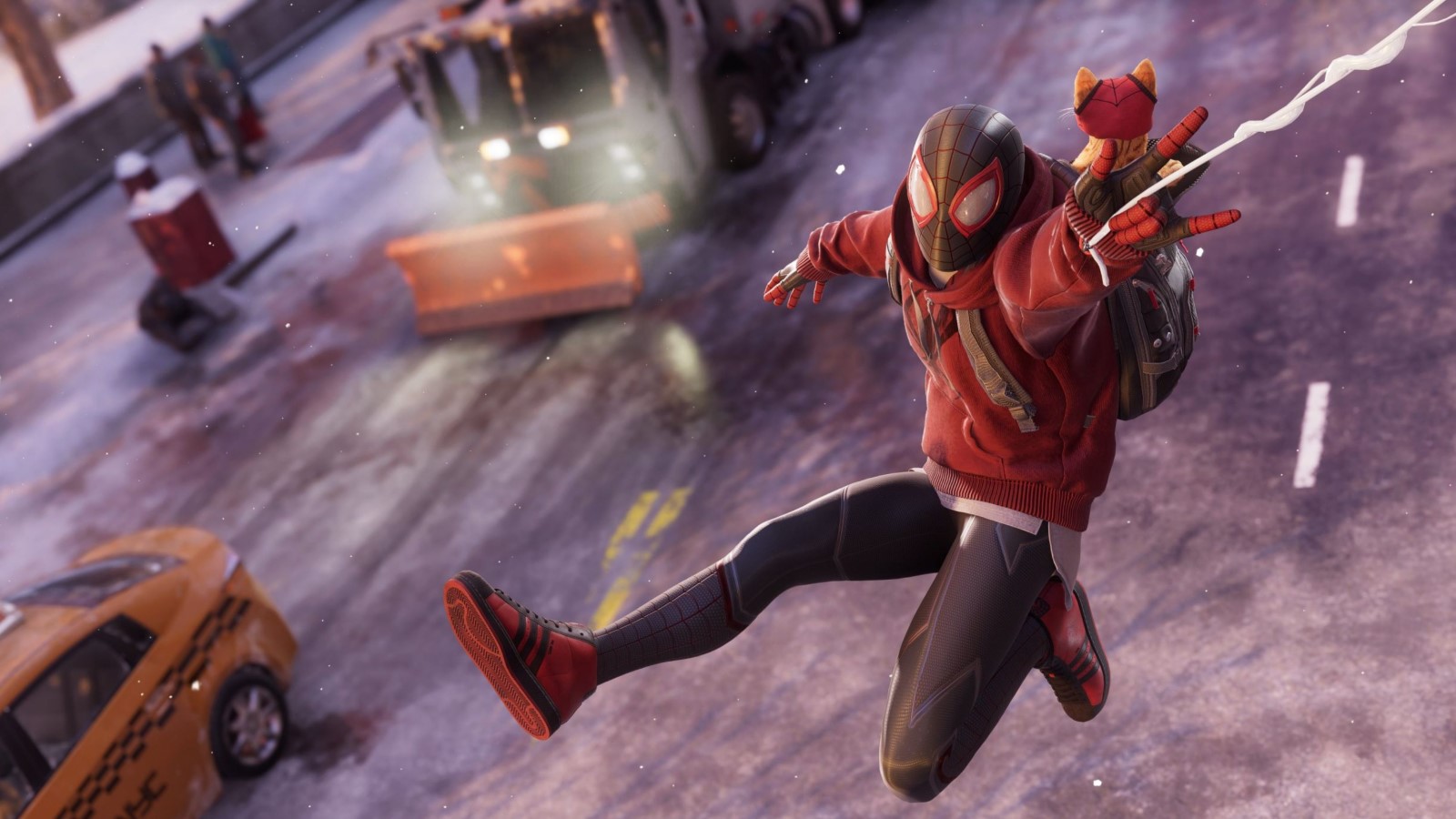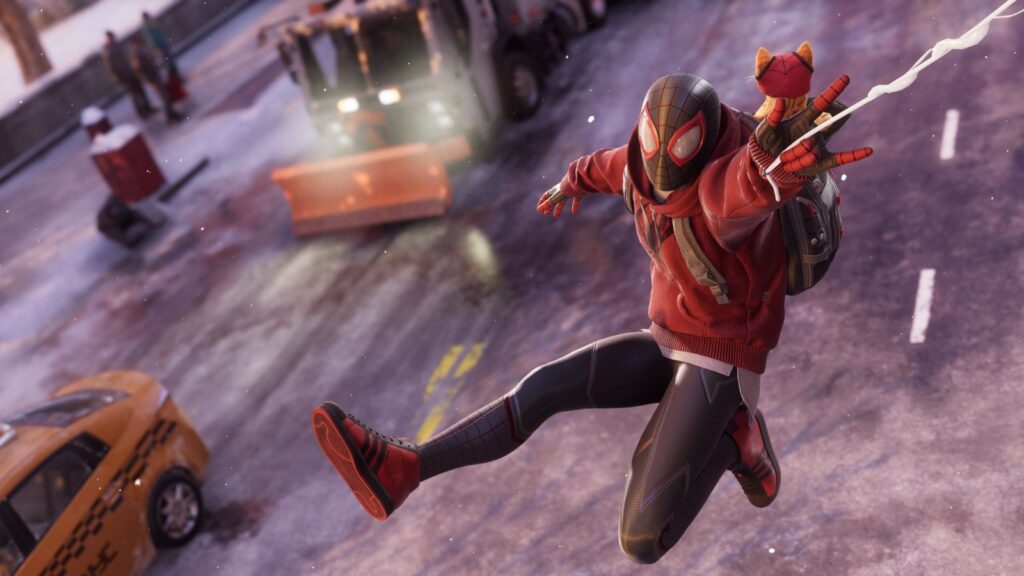 While swinging between the city's buildings, you constantly find yourself stopping to look for a lost kitten, collecting audio samples or recovering stolen goods, all trivial jobs but which never become burdensome precisely because they represent an excuse to do a few more turns in mid-air.
You rarely want to use fast travel, although doing so has never been so convenient in terms of time saved: the loading on PlayStation 5 is absolutely instantaneous, regardless of whether you use the subway, loading the last checkpoint after a game over or switch from indoor settings to the streets of Manhattan. Perhaps some loading is cleverly hidden by an intermission scene or by some ingenious technique and level design device. Still, when you enter the game, the feeling is simply that there are no waiting times. Point.
Miles Murales
Like the real Harlem, the one in the game is full of murals that tell the culture and roots of the predominantly Puerto Rican community living in the neighborhood north of Manhattan, also known as El Barrio.
On Miles Morales, these paintings are created by Hailey Cooper, a deaf street artist who also uses her art to support Spider-Man. While roaming the neighbourhood's streets, it is not uncommon to come across a mural depicting Spidey or satirizing his opponents.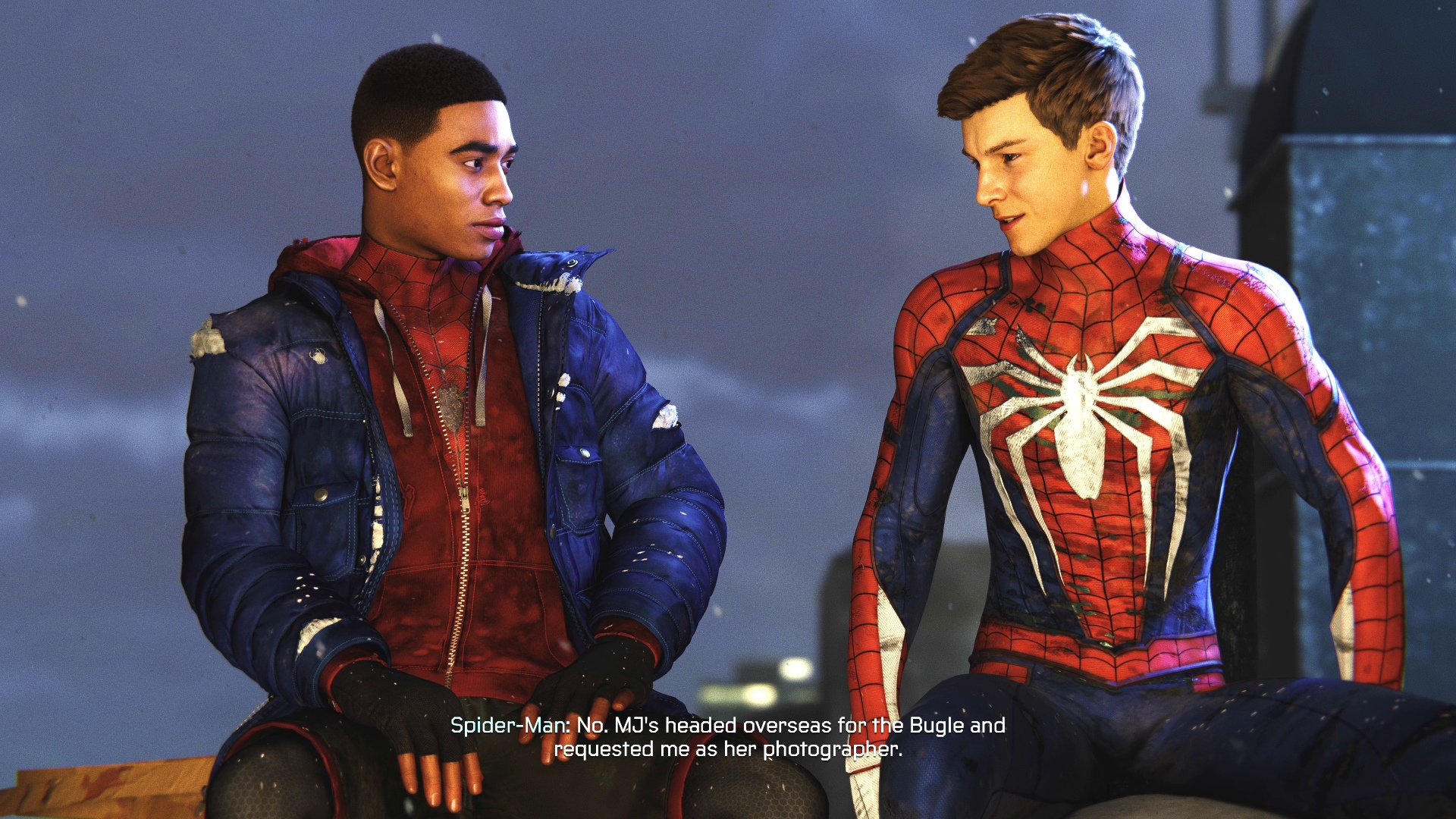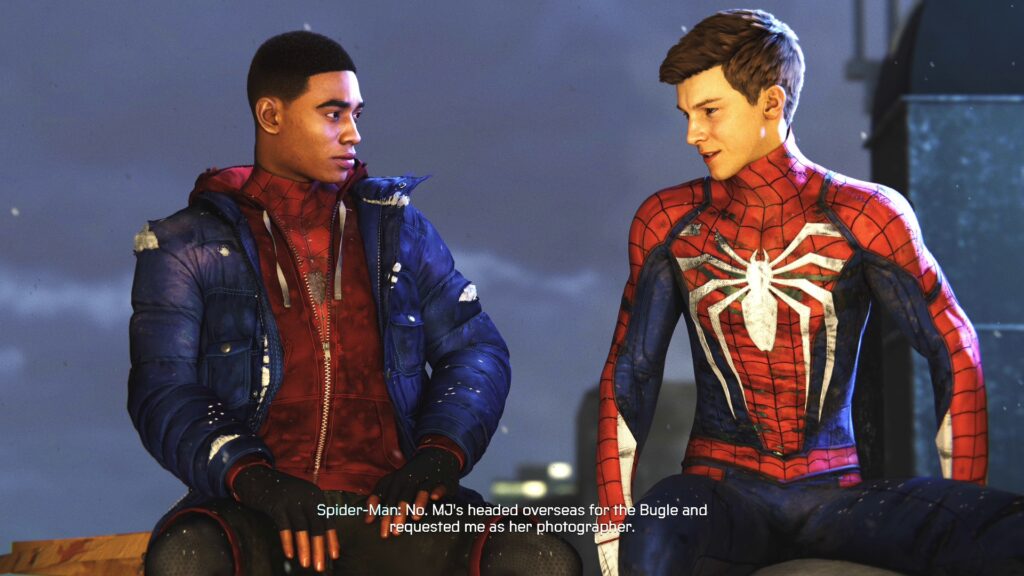 Hailey, however, is only one of the inhabitants of Harlem that Miles will get to know, and during the side missions, he will have to deal with the owner of a bodega, a barber who knows everyone's business or the new girl who runs the F.E.A.S.T. shelter. And even when away from home, Spider-Man will never be lonely, consistently accompanied by Danikast's podcasts, JJJ's quacking at the Daily Bugle or the constant phone calls from his mother Rio or his best friend and ally Ganke.
NYC in a New Light
What makes the stay in New York even more memorable is the city itself. Insomniac Games has recycled many of the graphical assets created for Marvel's Spider-Man for Miles Morales. Yet, the setting has a whole new atmosphere thanks to the Californian team's artistic and technological effort.
Almost as if to reflect the style and tastes of the new protagonist, the Harlem neighborhood is much more lively and diverse, and murals of all sizes color the facades of buildings. The choice to set this adventure in the Christmas period has allowed Insomniac to present a New York with a very different dress: from snowflakes that whiten the streets and rooftops to Christmas markets full of people looking for gifts, passing through the decorations and lights that are reflected on the streets and store windows.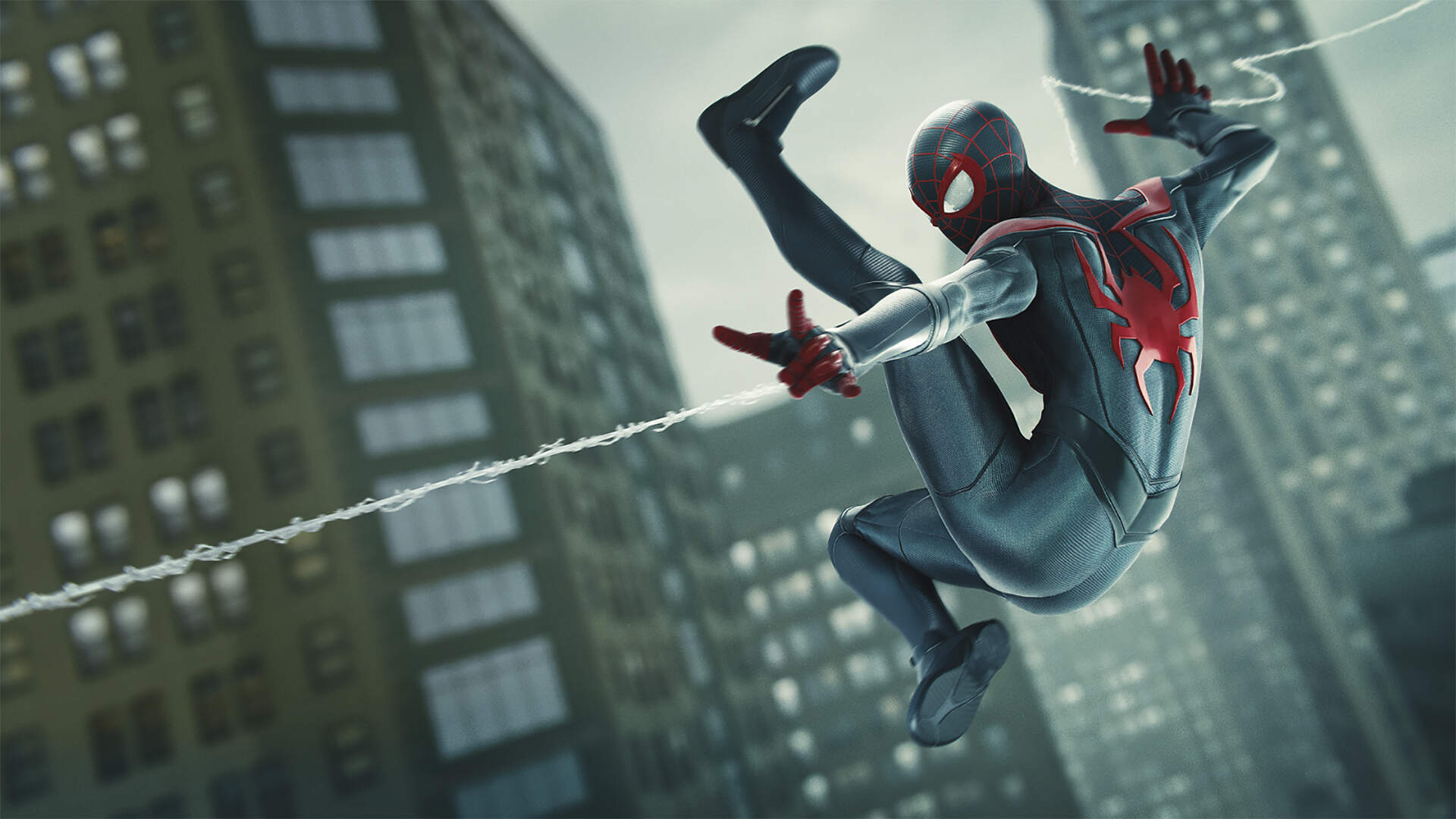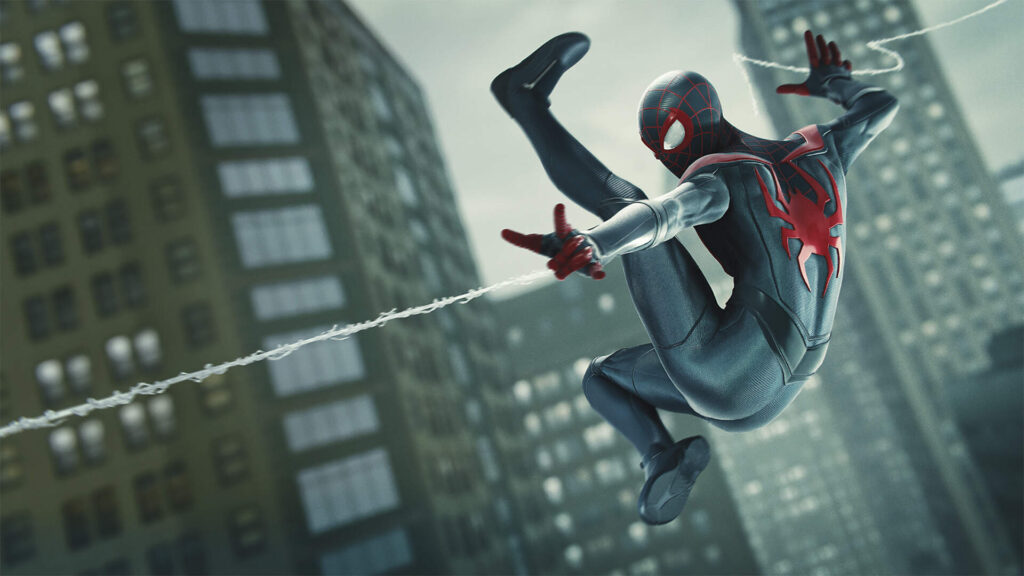 Using ray tracing and more advanced lighting only enhances an magical setting that changes color and character based on the time of day and the weather on any given mission. We spent far too much time looking at how sunlight reflects off Miles' costumes or the way the city is mirrored in glass. The neon colours reverberate on the pavement (and yes, even in puddles).
We fixated on the tiniest details in the characters' faces and clothes, climbed the Avengers Tower, and looked at the horizon of a city that appeared even more boundless. How the inevitable Spider-Man 2 will feature an even more interesting and unprecedented New York is a question we'll be thinking about in the future.
The Performance Mode
Adding ray tracing, a more enhanced lighting system, and generally higher levels of detail makes the PS5 version of Spider-Man Miles Morales a real treat for the eyes. Yet, try a few moments in performance mode to face a tragic crossroads: playing at 30 frames per second and enjoying the game of Insomniac in its most spectacular version?
Or do you have to sacrifice ray tracing and graphic details to play at twice the framerate? Because, believe us, oscillating between the buildings of New York at 60 fps is a different story, a much more enjoyable experience and from which many will hardly go back. New Game + can be a good excuse to play the game in both modes for the undecided.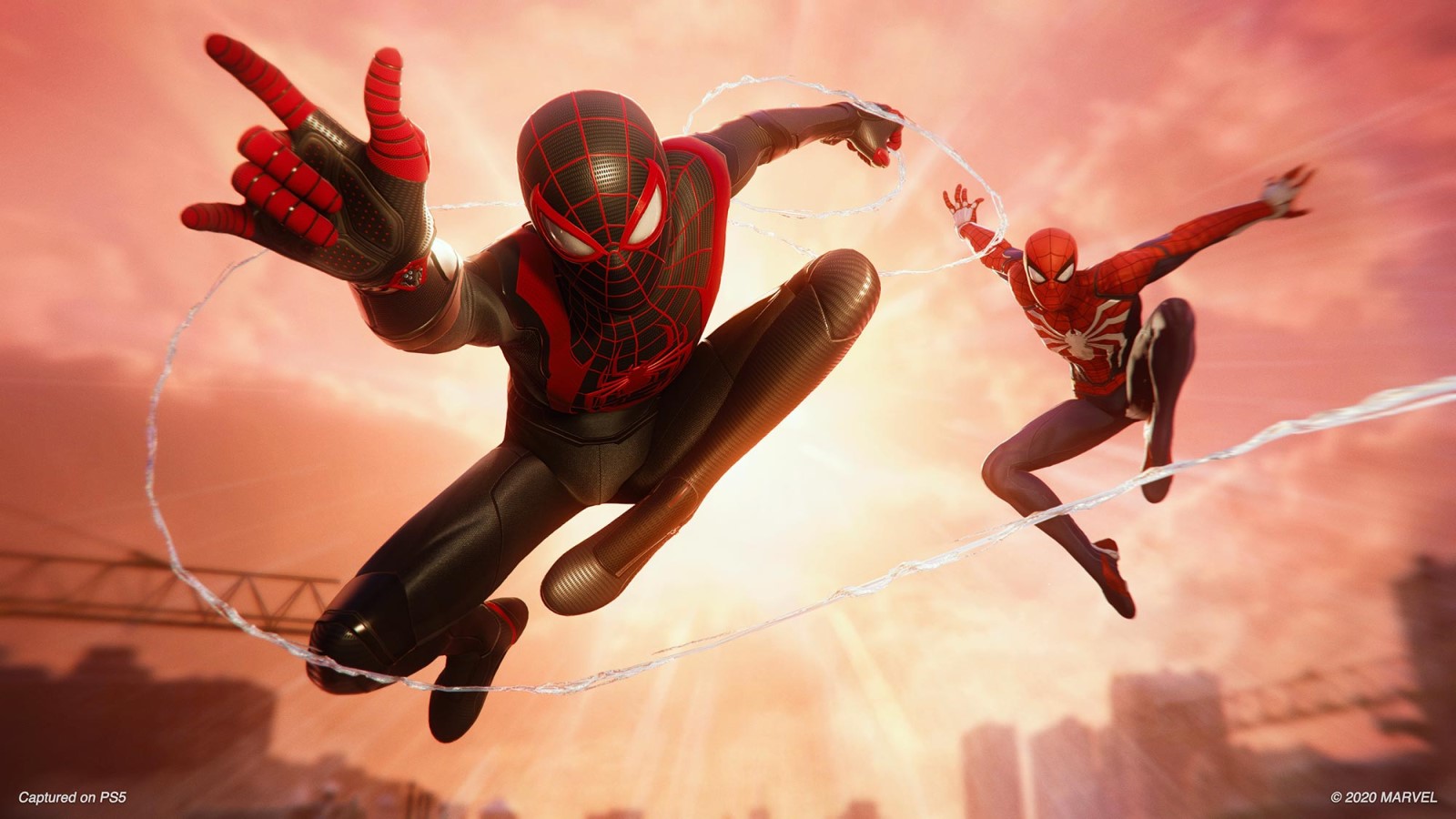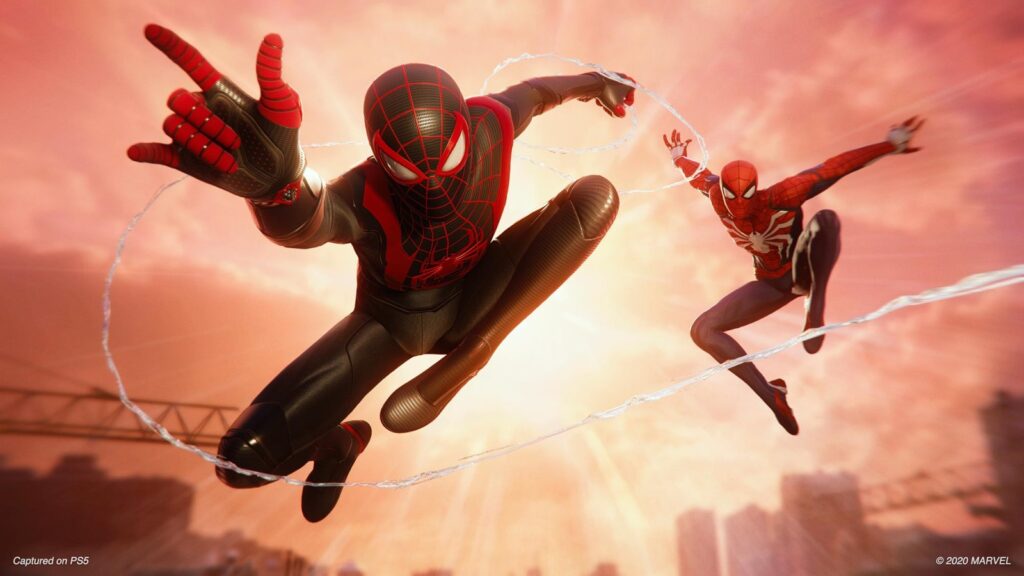 Marvel's Spider-Man: Miles Morales Score: 8.5/10
From one point of view, there is no doubt that Marvel's Spider-Man: Miles Morales is a parenthesis, an experience more contained, preserved and partly skimmed the episode for PlayStation 4. It does introduce some new insights and improves on specific aspects of the original but doesn't put a patch on what were its main criticisms.
Specifically, side quests have a little bite, the optional activities are limited to lairs to fight in and collectables to find, twists and turns will be phoned into fans, and boss fights are few and far from unforgettable. Would we have liked it more? Without a doubt. But as limited and imperfect, the Miles episode was a real panacea.
We were able to soar through the air with him and return to explore one of the most fun open worlds of recent years with new possibilities available. We have followed the protagonist's maturation and experienced an exciting story featuring interesting characters and moments of community large and small among the streets of a beautiful New York decorated to celebrate.
Again, Insomniac Games makes us feel like superheroes, inviting us to virtually sneak out the window and feel a sense of liberation through flying pirouettes and fast-paced, explosive combat. In such a complicated world, returning to wear the mask of Spider-Man, was never so comforting and liberating.
Pros
Oscillating between the skyscrapers of New York is still a unique experience
The city and its neighborhoods have more personality
The venom power makes combat more dynamic and fun
At 60 FPS is a blast
Cons
Unmemorable boss fights
The extra activities are still the Achilles' heel of the game
Some quick twists and turns