Are you struggling to defeat the boss, Zhuyan, in "Wo Long: Fallen Dynasty?" Fear not, as we have some helpful tips and strategies to ensure you emerge victorious from this intense battle.
As you progress through the game, you'll encounter various bosses, each with its unique challenges. But with our guide, you'll be better equipped to handle them and come out on top.
Zhuyan is a formidable white monkey with long arms and an extensive range of attack. To defeat him, you'll need to be patient, vigilant, and use a few tricks.
The first thing to note is that the boss has a long-range special attack that can cause significant damage. You should stay alert and block this attack with proper timing.
When the boss is at long range, he'll also throw a boulder at you. You can block this attack too, just like his punches. When you see the boss light up in red, it means he's about to unleash his special attack. The best strategy is to block it with perfect timing, which will allow you to inflict a considerable amount of damage.
The boss has a relatively small arena, which makes it hard to maintain a safe distance from him. However, you can use this to your advantage by waiting for the perfect opportunity to strike. Be patient, and don't rush into melee combat. Focus on blocking his attacks, and wait for him to let his guard down.
Once you defeat Zhuyan, it won't be the last time you face him. You'll encounter him again in later parts of "Wo Long: Fallen Dynasty," so make sure you memorize his attack patterns to increase your chances of winning.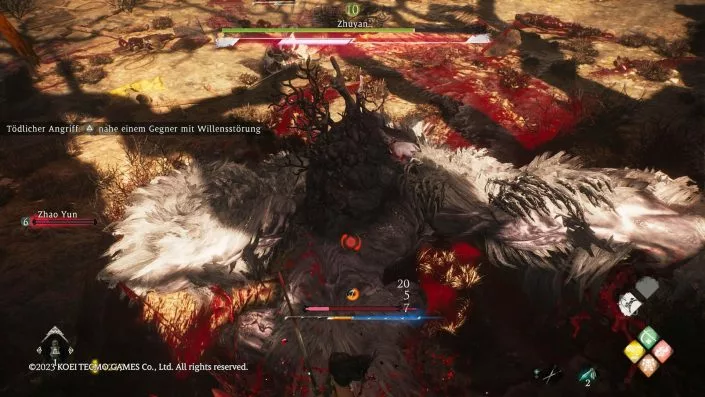 In conclusion, defeating Zhuyan in "Wo Long: Fallen Dynasty" requires patience, timing, and the right strategy. Remember to stay alert, block his attacks, and wait for the perfect opportunity to strike. With our expert guide and tips, you'll be able to defeat this formidable boss and progress to the next level.
Do you have any other tips or strategies for defeating Zhuyan in "Wo Long: Fallen Dynasty?" Feel free to share them with us in the comments below.