Since its long-awaited release in February, Hogwarts Legacy has enchanted fans of the Wizarding World with its immersive gameplay. Developed by Avalanche Studios, the AAA title initially launched on PS5, Xbox Series, and PC, and later expanded to include versions for PS4 and Xbox One in May. Now, a significant update has been unveiled, bringing a host of bug fixes and improvements to the magical experience.
The latest patch for Hogwarts Legacy, available across all platforms, focuses on enhancing the overall performance of the game. This extensive update introduces technical tweaks, lighting improvements, memory optimization, and a more stable and polished gameplay experience.
While it doesn't introduce new content per se, the update ensures that players can delve even deeper into the adventure and explore the open world of Hogwarts with greater ease and enjoyment.
The Quest for Perfection Continues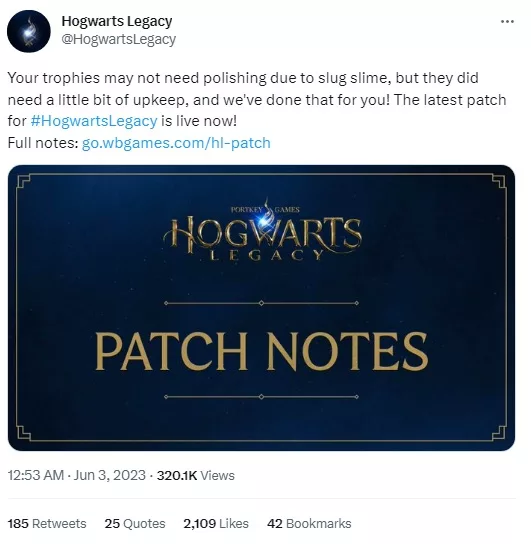 While the release of Hogwarts Legacy on various platforms has been well-received, the development team remains dedicated to delivering a top-notch experience for all players. One platform still awaiting the game's arrival is the Nintendo Switch.
The launch for the hybrid console has been postponed several times to ensure a version that meets the expectations of Switch players. Many fans who have already experienced the game on other consoles are amazed by the potential challenges of bringing the expansive open world and rich content to the Switch.
Unveiling the Magical Realm of Hogwarts Legacy
Hogwarts Legacy presents an enthralling adventure, inviting players to step into the shoes of a new student at the prestigious College of Witchcraft and Wizardry. While the game offers a safe haven within the walls of Hogwarts, it also challenges players to venture beyond its borders, facing dark wizards and mischievous creatures seeking to disrupt the magical realm.
Building on the success of Hogwarts Legacy, Warner Bros. Games has recently announced Harry Potter: Quidditch Champions, expanding the enchanting universe even further.
Why "Wizard with a Gun" is Taking the Gaming World by Storm: Don't be left out of the latest gaming craze! Our expert review of "Wizard with a Gun" breaks down what sets this game apart from the rest. Learn about its captivating storyline, challenging gameplay, and breathtaking visuals all in one place. Read our expert "Wizard with a Gun" review now.