Chrome add-ons, as well as Firefox add-ons, can make life a lot easier. Several browser extensions add just the right amount of charm, whereas others minimize the financial expenses involved in online commerce. The great thing about web browsers like Google Chrome and Mozilla Firefox is that they can be extended when needed with the help of so-called add-ons.
This term stands for utilities that increase the functionality of programs and include themes and plug-ins. Primarily, this refers to extensions, for example, to the well-known add-on Adblock Plus. This blocks pop-up fights malware, for example. However, there are many other useful add-ons for Chrome and Firefox. We have selected a few particularly interesting extensions.
Adding and Managing Firefox & Chrome Add-Ons
Before adding add-ons to Chrome or Firefox, you need to know how each works. Fortunately, the overall handling is exceedingly simple.
Adding Chrome extensions
On Chrome, you can install add-ons via the Chrome Web Store. There you can find various add-on categories and a search function that can be used to find specific Chrome extensions. Furthermore, you can also sort the add-ons by rating. After you have targeted a Chrome add-on, the handling is the same as in the Play Store (Android) or App Store (iOS). Those who are interested receive a brief description of the Chrome extension as well as privacy information. In addition, you can view ratings from users.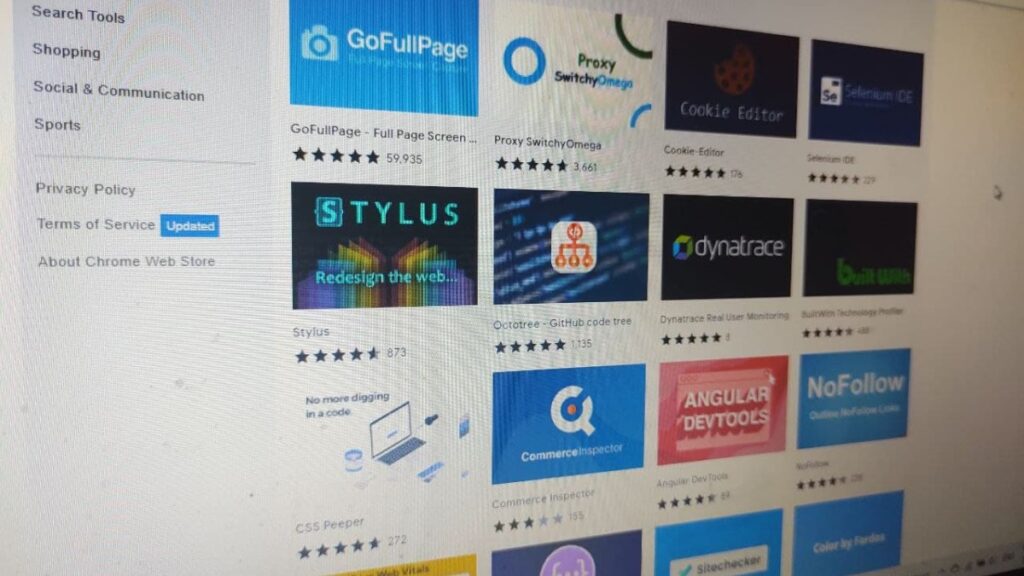 After the Chrome add-ons are installed, they will usually appear to the right of the address bar. If this is not the case, you can pin the extensions manually. To do this, you have to click on the puzzle icon (also to the right of the address bar). That is also the menu where you can manage and remove Chrome add-ons. Internal plug-ins settings, in the meanwhile, need to be made in the extensions menu, which can be accessed by clicking on the corresponding icon in Google's browser.
Adding Firefox extensions
Mozilla Firefox's basic procedure is similar to the one in Chrome. The developers have also created a unique page for Firefox add-ons in this browser, on which the individual Firefox extensions can be sorted and added. In addition, here, you will find a bar with permissions granted to the individual add-ons. This way, you always know what each Firefox add-on can access.
In Firefox, the add-ons also appear to the right of the address bar. But if you want to manage them, you must first click on the three-dot menu and select the sub-item "Add-ons and Themes". Here you can edit, disable and remove Firefox add-ons.
Also Read:
Best Firefox and Chrome Add-Ons
As you know, there are different tastes. So an add-on that is the proverbial icing on the cake for one user's browser may be completely useless for another. This is why we have not sorted the Firefox and Chrome extensions listed here according to their relevance. The selected order is completely arbitrary and does not make any statements about the usefulness of the respective add-on.
The LanguageTool
LanguageTool is a grammar, style and spelling checker. After the installation, it will check texts in almost every multiline text field in the browser. At the bottom, the right corner, an icon has the number of errors. Afterwards, Users can adopt the suggestions for improvement offered by the plug-in. In addition, on request, LanguageTool fades in synonyms for words to add some variety to the wording.
LanguageTool for Chrome LanguageTool for Firefox
Buster: captcha solver for Humans
The Buster: Captcha Solver For Humans extension is aimed at all human beings who are tired of proving they are humans all the time. This tool automatically solves Google's reCaptcha image puzzles, which is admittedly quite ironic. Because the whole point of the miniature Turing test is to prove that it's a human and not a bot that wants to access the website or complete a transaction. Anyway, from an individual user's point of view, the add-on saves both time and nerves.
Buster for Chrome Buster for Firefox
Dark Reader
The principle of Dark Reader is as simple as it is practical. Should you prefer the so-called Dark Mode, i.e. a dark design, then this add-on is exactly the right thing for you. Because Dark Reader lets any website – be it Google, Wikipedia or Facebook – shine in a dark design. You can customize the appearance and, if needed, even turned off completely for some websites.
Dark Reader for Chrome Dark Reader for Firefox
Google Translator
The Google Translator is one of the most practical extensions for the Chrome browser. Because the plug-in from Google saves you the trip to the translator website, all you need to do is select a text excerpt and click on the translator icon. And the text will be translated into any language. The selected excerpt must not be too long – otherwise, the translation will be opened in a new tab.
DuckDuckGo Privacy Essentials
Primarily, DuckDuckGo is a secure search engine for browsing the digital space. Beyond that, however, there is also an add-on from the developers that is designed to protect your privacy. This extension blocks hidden trackers discloses them to users, and automatically creates a privacy rating for the website in question. Furthermore, the DuckDuckGo add-on prompts sites to establish an encrypted connection if possible.
DuckDuckGo Privacy Essentials for Chrome DuckDuckGo Privacy Essentials for Firefox
ReviewMeta
The ReviewMeta add-on is a useful extension for all those who frequently shop at the online retailer Amazon. Amazon reviews are not a big secret, but reviews at Amazon and other retailers can be bought and therefore do not always reflect the quality of the product. ReviewMeta analyzes the metadata and adjusts the star ratings on Amazon accordingly. In doing so, the analysis is disclosed by the tool so that users can understand the recalculation to some extent. The new calculation remains to be seen whether the new value is accurate.
ReviewMeta for Chrome ReviewMeta for Firefox
Cookie AutoDelete
As an internet user, you probably know what a cookie is and how you can delete them. You can delete them manually, but there are also add-ons such as Cookie AutoDelete that take the removal and management of cookies to the next level. As an example, the extension allows you to remove cookies X seconds after closing a website automatically. The tool also offers many other configuration options.
Cookie AutoDelete for Chrome Cookie AutoDelete for Firefox
I don't care about cookies
"I don't care about cookies" plug-in is a suitable extension to the previous add-on. A disturbing cookie notice appears every time you visit a website if you regularly remove cookies. The "I don't care about cookies" add-on removes such notices or fills them in automatically, according to your preferences.
I don't care about cookies for Chrome I don't care about cookies for Firefox
Todoist
The Todoist add-on helps manage your everyday digital life. A to-do tool helps you add websites as tasks and organize your tasks from within the add-on, for example. Also on board are features like prioritizing tasks, due dates, and recurring tasks.
Todoist for Chrome Todoist for Firefox
Honey
The extension Honey is simply a coupon finder that automatically finds codes for over 30,000 websites while you store. This way, you save "cash" with extremely little effort. PayPal acquired this platform in 2019 for $4 billion.
Honey for Chrome Honey for Firefox
Startpage Privacy Protection
An alternate to the DuckDuckGo add-on is the Startpage Privacy Protection extension published in January 2022. This one also comes from a secure search engine and blocks trackers as well as cookies. Thereby, the users are offered the possibility to personalize the protection for individual pages or also in general. Furthermore, it is interesting to see the so-called privacy rating, which shows the security level of a website on a scale from 1 to 5.
The add-on, nevertheless, also has one major drawback. Because the extension automatically sets Startpage as the default search engine. In principle, this would not be wrong if consumers were given a choice. In the Chrome browser, users can only select an alternative default search engine if they deactivate the Startpage extension. In contrast, Firefox users do not need to worry about this problem.
Startpage Privacy Protection for Chrome Startpage Privacy Protection for Firefox
Add-Ons: The Big Drawback
There are many benefits that Firefox and Chrome extensions can bring. However, there is one big drawback as well: privacy. This is because plug-ins often require different permissions, like access to browser activity or location data. Before adding add-ons, therefore, be sure to familiarize yourself with their respective privacy notices. These can be found in the Chrome Web Store under "Privacy practices" and in Firefox's add-on section under "Permissions".