God of War: Ragnarok is landing on PlayStation 4 and PlayStation 5 on November 9 alongside four special editions that can be pre-ordered beginning Friday, July 15. Called the Jötnar Edition, the most complete of them will include a series of collectibles among which we will find a neat cloth map of Yggdrasil that gives us a first glimpse of the nine Norse kingdoms.
The attached map was first unveiled during the official unboxing of the Jötnar Edition and it reveals some interesting details that might give some clues about the enemies Kratos and Atreus would be facing during their adventure, in addition to the locations they would be visiting.
Among the most notable aspects of this image is the presence of Surtr, our first Fire Giant, standing in Muspelheim, while the Bifrost can also be seen in Asgard and the Kingdom of Niflheim appears to be much more snow-covered.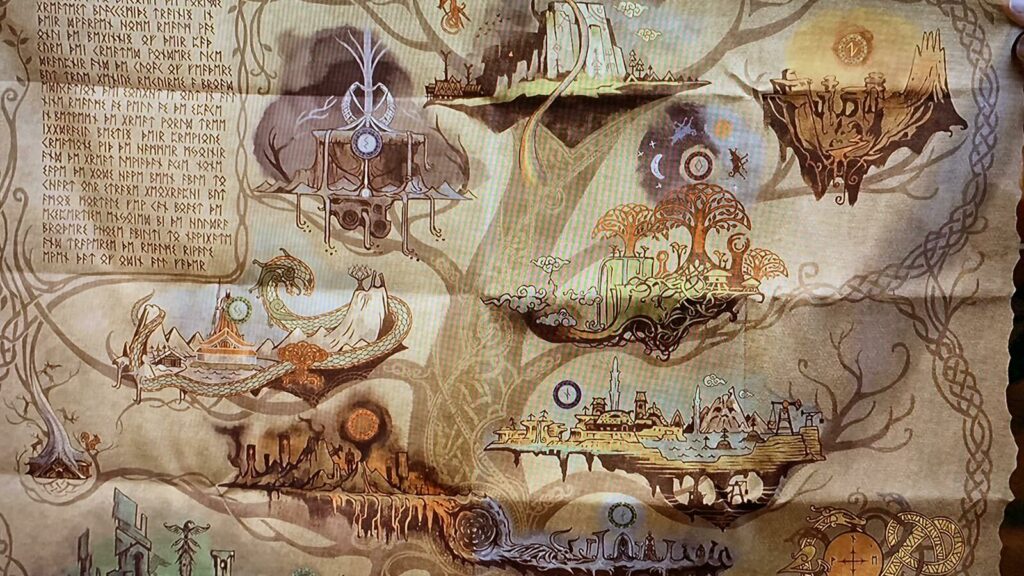 There is a small chance that not all of what is shown on the Jötnar Edition map will actually appear in the final version of the game, but that would be odd considering that Rafael Grassetti, art director at Santa Monica Studios, said during the unboxing that he is "very excited" for fans to explore all of the realms.
Ragnarok to have over 60 accessibility options
Back in mid-May, the development studio announced that this new installment of the God of War saga will feature more than 60 accessibility options for all types of players to enjoy it.
Furthermore, soon after the release date was revealed, it was confirmed that players who purchase the PlayStation 4 version will be able to upgrade to the PlayStation 5 version for a price of 10 euros.