Earlier this week, the highly-anticipated closed beta for Crash Team Rumble was held for those who pre-ordered the game. The closed beta was an opportunity for players to get a sneak peek at the game and provide feedback to the developers.
Just hours after the beta ended, some exciting data relating to this test phase has been shared on the game's social media profiles.
According to the data, during the closed beta phase, 90,000 matches were played, totaling to a whopping 2 million minutes in matches. Players managed to hit over 200 million wumpa apples in their quest to be the winning team.
For those who are unfamiliar with the game, Crash Team Rumble is a 4 vs 4 game mode where teams compete to collect the largest number of wumpa apples and deposit them in their bases.
The game features characters from the Crash saga who are divided into roles, including markers, enhancers, and defenders.
Developed by Toys for Bob and published by Activision, Crash Team Rumble is set to release on June 20 on PlayStation 4, PlayStation 5, Xbox One, and Xbox Series X/S. This exciting new game is sure to be a hit with fans of the Crash Bandicoot series.
The closed beta data has shown that Crash Team Rumble has already generated a lot of interest among gamers. With over 90,000 matches played in just a few days, it is clear that players are eager to get their hands on this game.
The data also shows that players spent over 2 million minutes in matches, which is a testament to the game's addictiveness and fun gameplay.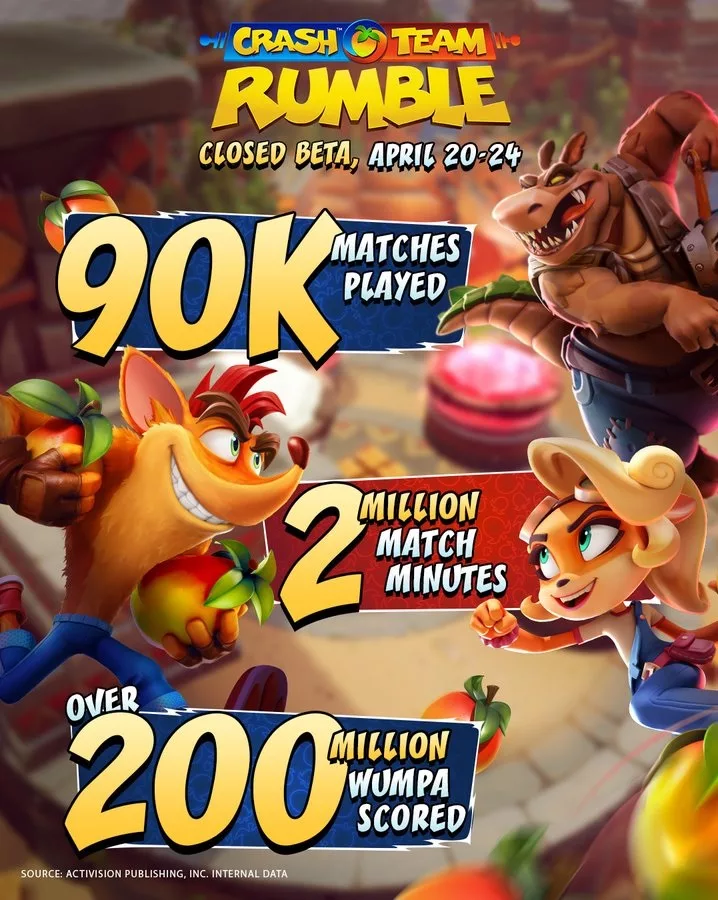 In conclusion, the closed beta for Crash Team Rumble was a huge success, and the data proves that this game is going to be a hit.
With its fast-paced action, fun gameplay, and beloved characters from the Crash saga, players are in for a treat when the game releases in June.